Recognized by the United States Olympic Committee and the Union Cycliste Internationale, USA Cycling is the official governing body for all disciplines of competitive cycling in the United States, including BMX, cyclocross, mountain bike, road and track. As a membership-based organization, USA Cycling comprises 60,000+ annual members; 2,500+ clubs and teams; and 34 local associations. The national governing body sanctions over 3,000 competitive and non-competitive events throughout the U.S. each year and is responsible for the identification, development, and support of American cyclists.

Most Road, Track, Mountain Bike, Cyclocross, and some BMX racing is held under USAC Event permit. Competitors are required to have USAC annual racing licenses or purchase one-day licenses in order to enter. Competitive events held under USAC permit will have trained officials, approved event announcements, liability and rider accident insurance coverage, etc., and will usually have separate races for various skill-based and age-graded categories or combinations thereof. Clubs, like the NOBC, can become member clubs of USAC and are thereby able to hold official USAC races and non-competitive events. For more information on USA Cycling, just go to their website.

A few key items are explained below.
USA Cycling can be contacted directly at: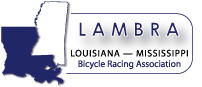 The Louisiana/Mississippi Bicycle Racing Association (LAMBRA) is the official point of contact for race permitting, officiating, event coordination, rider licensing, rider upgrades, etc., and maintains an agreement with USA Cycling under which it handles many of the day-to-day issues such as rider upgrades, event permit approvals, results submission, etc. In order to compete in USAC-sanctioned events (all major races and the District Championships), you must join USA Cycling or purchase a 1-day USAC license. USAC conducts rider training camps, and clinics throughout the year. NOBC members are strongly urged to get USAC racing licenses. For information and an application, contact the Louisiana/Mississippi Bicycle Racing Association (LAMBRA).
Membership
USA Cycling Road/Track/Cyclocross/Mountain Bike annual racing licenses cost $70 (2017) and include a racing license, supplemental accident and catastropic insurance, and other benefits. Applications are available, directly from the USAC. The best method is to join or renew online.
Riders without annual racing license can register for USAC races by purchasing One-Day USAC licenses during online registration or at races. Riders with one-day licenses are generally allowed to enter only races that are open to Category 5 riders. In order to purchase a one-day license online, you must set up a free USAC account.
USAC Classes and Categories
USAC riders are divided up into a number of classes for both men and women according to age. Riders under 18 are classified as Juniors (although they can opt to race as seniors). Riders over the are of 35 are typically considered to be Masters (although they too can always race as Seniors). Within a given event, races may be held for a number of age divisions, at the discretion of the race organizers. Most often, locally, there will be a race for Juniors, a number of races for the various racing categories, one or two races for Masters, and a race for Women. Larger events will have races for more classes. Smaller events may combine classes into single races.
Each USAC rider is assigned to one of five numbered Categories, depending on experience and race results. New members are automatically assigned to Category 5. Many local recreational riders never seek to advance beyond Category 4. Riders can upgrade to the lower-numbered, more competitive categories based on a combination of experience and race results. In general, categories are as follows:
Category 1: National Caliber atheletes who often compete in the same races as professionals.
Category 2: Advanced riders with several successful seasons of experience in major races.
Category 3: Intermediate riders with one to three years of experience in major races.
Category 4: Experienced riders in their first or second seasons and riders who race only occasionally.
Category 5: New Licensees and 1-day licencees.
Upgrading
Most rider upgrades for Louisiana and Mississippi are handled by LAMBRA. To request an upgrade, sign on to your USA Cycling account ("My USA Cycling"), click on the "License Info." tab, and select "upgrade/downgrade" for the appropriate racing license. Additional information on upgrading is available on the LAMBRA website.

USA Cycling has specific requirements and procedures for upgrading. You can see them in the USA Cycling Rulebook. Upgrades from Category 5 to Category 4 require only experience in ten mass-start races. Upgrades to Categories 3, 2 and 1 require a combination of experience and results. There are specific upgrade points schedules that are used to determine when a riders is eligible to upgrade beyond Category 4. A summary of the guildelines from 2017 appears below.
Road Upgrades
Guidelines and Notes by Category:
Category 5-4: Acquire 10 points by a combination of the following: • 2 points – complete all three sections of a Beginner Racer Program (BRP) clinic. Allowed up to 10 points. • 1 point – finish a massed start race • 1 point – participate in a mentored race experience where the mentor is at least a cat 3 rider and has been approved by the Local Association. Maximum 5 points. • USA Cycling-approved education clinics award points based on the curriculum, length and content. Maximum 5 points with clinic points as determined by USAC • 1 point - Participate in a USA Cycling sanctioned Gran Fondo. Maximum 3 points
Category 4-3: (1) 20 points; or,(2) experience in 25 qualifying races with a minimum of 10 top ten finishes with fields of 30 riders+; or, (3) 20 pack finishes with fields over 50. 30 points in 12 months is a mandatory upgrade. USAC-sanctioned rider Camps and Clinics that are approved by the Local Associations for upgrading will count a maximum of 3 upgrade points when upgrading from category 4 to category 3.
Category 3-2: 30 points 40 points in 12 months is a mandatory upgrade
Category 2-1: 35 points*** 50 points in 12 months is a mandatory upgrade

Return to NOBC Welcome Page