The New Orleans Bicycle Club's Tour de Louisiane is typically one of the biggest events on the LAMBRA race calendar and this year was no different. NOBC does a great job with the race and is able to attract riders in from neighboring states for the event. Our Category 4 field was right under 50 riders.
Saturday morning was the 3 mile time trial in Abita Springs. The weather was about perfect considering it was July – no wind and some clouds. I am not a strong time trialist and normally this stage race is decided on this three mile stretch of dead flat road. I warm up and get to the starters tent with ample time and wait my turn to start (no repeat of my Giro d'Rankin excitement).
Randy Legeai, ref'ing instead of racing, counts down my start and I am off. Within 20 seconds I am at a speed I think I can hold until the finish and now it is time to just endure the ride. I never dip under 26mph and am able to hold above 27mph the last mile. I finish in 6:47 which is a pretty respectable time for me. Unfortunately, 13 other riders had better times. Matt Davis with Team LaS'port and an unattached rider, Tyler Stanfield, finished tied for first at 6:19. I am hoping that I can get in a breakaway in the afternoon road race and make up some places.
There were a few changes in the Tour de Louisiane this year. The road race moved to a smoother course in Washington Parish with more rolling hills. The event also moved back one week from June to July. This meant that my two boys were done with baseball and could come out and watch the road race and work the feed zone for the racers along with my wife, Rachel. This is a nice change since my wife and kids aren't able to come to many of my races.
I change cars to drive up to the road race which is about an hour north of my house. You don't expect kids to ride that far without being entertained with a DVD do you? It is a fire drill getting everything loaded in the van and we are running a few minutes behind when I wanted to leave but no big deal. About fifteen minutes before my race starts at 1:10PM, I realize that I hadn't brought my bike shoes – Ouch! I check with Ed Kendrick, a Masters rider on my NOBC team and thankfully he has an extra pair. They are a couple sizes too big but better than my Crocs. The cleat is closer to my toes than the ball of my foot but they will work. As I am walking back to the my van to get my bottles, Mike Rivault, a Category 5 rider with NOBC who I ride with, looks at my feet and with a confused look ask if I need some shoes. I guess the shoes were rolling up on the front as I walk. It was pretty comical. Mike's extra shoes were only one size too large and although they didn't cinch up as tight as Ed's, the cleat was closer to the ball of my foot. Thanks again Mike and Ed!
Our road race is four laps for a total of 64 miles. On the course, there aren't any real big climbs but there isn't a lot of flat ground either. I am hoping that the course and the heat takes it toll on the pack and I am able to get away with some other riders and get some time back in the GC.
The road race starts off fast and doesn't really slow down. There is a time bonus at the end of the first lap that I am not well positioned for and not that interested in since I want to save my effort for a breakaway. I am in the front group after the bonus and we have a slight gap on the field. We work a little bit but the pack works hard to almost immediately chase us down as it does with all breaks.
A small group of riders keep the pace high at the front lead mostly by Matt and Tyler. Tyler is listed as unattached but he is part of a group with Bob's Bikes from AL. I take an occasional pull and, every now and then, try to go off the front when the pace slows a bit but nothing will stay away. The pack does thin every lap which is a good thing but I needed a break away and it isn't happening.
It is pretty clear that the road race will end in a bunch sprint. There are several riders in the group who I would classify as either aggressive or careless or maybe both. They move in a pack as they would on an open road and often times cut into other riders. I am a little concerned about a crash in the sprint. As the sprint starts I am boxed in on the right side of the road. I don't find much of a line and finish twelfth in the race and am a little disappointed I didn't do more to get a break going. The GC leaders and their teams did a good job of setting a high pace. We averaged around 24mph for the 64 mile race.
I wake to thunder on Sunday morning as I get ready to drive to the criterium race in Covington. The rain is welcome since we have been in a drought for some time but I wish it could have waited. The ¾ mile criterium course was running clockwise this year due to some construction on the course. I get to Covington in time to watch the other category's races. There are quite a few crashes as the roads are wet and very slick.
The Category 4 race doesn't start until after 10AM. The rain has stopped and the roads are dry by the time we have our warmup. I was able to move up four places in the GC to 10th after the road race as some riders ahead of me weren't able to finish with the pack. I am hopeful of the pack splitting for the criterium but not too optimistic. Matt has the GC well in hand after getting time bonuses for winning the road race.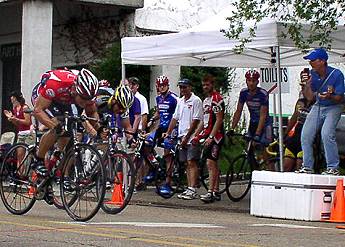 The race starts out fairly fast and I stay near the front. A few primes drive the pace and I try a few attacks to keep things quick. Riders are coming off the back of the group after a few laps. There is a large NOBC cheering section and I hear them screaming my name several places around the course. Halfway through the race there is a time bonus. As the bell sounds for the bonus, more riders push for the front and the pace picks up faster.
On the back side of the course on a straight section, I hear a rider fall. I am about five riders back but we are riding two and three abreast. Rob DeJean with Adam's is a tall racer. He moved up to the front on the corner before. I don't see his head so I know he is down. He was on the right so I start working to the left of the group to avoid him. Riders are going down one by one in front of me. I keep working to my left but eventually the crashing gets back to me and my front wheel is suddenly knocked out from under me and I crash hard on my right side. The back of my helmet slams very hard on the road and splits. I slide in gravel before coming to a stop. My computer showed I was doing 29mph before the crash.
I pop up and see that my back wheel won't turn. The brakes are rubbing and I assume my back wheel is bent. I open the brakes, put my chain back on and ride back to the pit with my rear wheel still rubbing. I know there are still other riders down around me but I am focused to get back in the race. I see quite a bit of blood coming from my right hand and know I will have some nice rash on my back and hip. The buckle on my bike shoes has been torn off and my ankle is a little sore but other than that I am fine. These helmets are amazing in how much shock they can absorb.
In the pit, I get a back wheel and notice that my right shifter looks broken. Rusty Bernard is in the pit and I ask him to check it out while I am getting my helmet back on straight and taking stock to make sure nothing else is wrong with me. It turns out that there was a rock imbedded in the shifter that was keeping the back brakes locked. Rusty got it out and all was well. The pit had already changed the back wheel but my original was not damaged. I straighten my seat and I get on the back of the pack on the next lap taking advantage of the free lap rule for the criterium.
As I round the first corner, I see there is an ambulance working another crash near the end of the long straight. I am not sure when this crash happened but this racer looks hurt pretty bad. Things seem to settle as the front pack is down to around ten or fifteen riders. I see Matt's number is flapping on his back and know that he must have gone down in the same crash as I. I think most of the front riders went down in it. I am still thinking there is time for a break. I go off the front and the pace picks up. As the pack catches me, Matt counter attacks and goes off the front. Another rider bridges up to him while the rest of the pack goes all out to bring them back in. By the time they start counting down laps at four, we are all together and I am third or fourth wheel from the front.
Things stay fast and steady. On the back straight on the last lap, I follow Matt around a group that has tried to move up to the front in a corner. Michael Lackey with GS Montagna Rossa bumps Matt hard to the inside on the final corner. He bumped my hip hard on the same corner earlier in the race. I take an inside line as well and start the sprint to the line. I pass up some riders who took the corner wider and finish a fairly easy third behind Matt and Michael. I think there may have been yet another crash some where behind me.
With the third place time bonus, I am able to move up to seventh place in the GC. Matt Davis finished in first, 27 seconds ahead of Tyler in second place. Tyler made a few showings at the front during the criterium but wasn't real strong at cornering and didn't stay there long.
After the race, I wait for my turn at the first aid station. I get bandaged up and will need a few stitches in my hand and arm later at the hospital. X-rays show a little bruising on my right ankle bone but nothing broken. I will take a few days off the bike which fortunately didn't seem to get any damage. I didn't hear any information on the other riders who crashed in the race but am hopeful everyone is OK.