MORE PHOTOS:
GO TO MAL SCHULER'S PHOTO PAGE

Rob Conrad, Sr. 1,2,3 Winner. Rob was the NBO insurance policy



Mike Lew, Dennis Dunham and Scott Dunham



Philip Dunham received a new handcycle thanks to donations from area cyclists



Glenn Gulotta of Betat Bicycles checks out Philip's new bike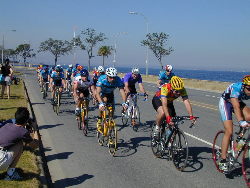 Senior 4/5 Pack



Glenn Gulotta and Philip Dunham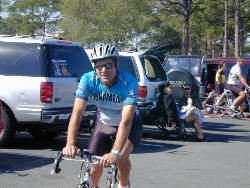 Glen Gulotta



Matt Rinard powered the early break in the 1,2,3 race with Norman Nolan and ?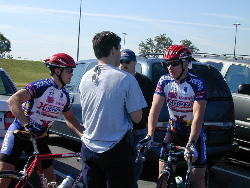 Brad Hecker, an injured Kenny Bellau and Frank Moak. Frank got the sprint finish he was waiting for, but Rob beat him to the line.



Senior 4/5 pack

Lakeshore Rocktoberfest
Presented by: eVamor/LAKESHORE CYCLING CLUB
October 16, 2000

[From Alan's E-mail to La-Racing]
Here are results from today's event, but before I post them...I have to say thanks to all who raced, all who helped and all who gave. Many of you saw me get chocked up at the awards ceremonies today. Rob Conrad winner of the 1/2/3 race spontaeneously donated his $1486 winnings to the Phillip Dunham foundation upon receipt. He did it in the name of his club. That moment along with everything good that comes out of events like this make it all worthwhile and embody the spirit of good which reside in all of us. Hey ... not to get to syrupy, but that/this is what it's all about. Thank you to everyone who rode hard today, worked hard for the race and hard for the cause. Every person who left everything they had on the course, can hold their head up high, because all of us did something good today!

[A race report follows the results listing]

Results Rocktoberfest LA State Crit

Pub 5
1. Bubby Bodden-U/A
2. Julian Humphries-Violet Crown
3. R. Marshall-U/A

Pub 5 State Criterium
1. Bubby Bodden - U/A
2. Shane Trosclair - Lakeshore
3. Roger Mattei - Lakeshore

Women(All LA finishers)
1. Josie Babin - Red Stick
2. Cindie Hill - Lakeshore
3. Erin Seidman - Lakeshore

JRS ( Alll LA Finishers)
1. Erich Mattei - Lakeshore
2. Mal Schuler - Lakeshore
3. Brandon Morvant - U/A

4/5 ( All LA finishers)
1. Erich Mattei - Lakeshore
2. Paul Hill - Lakeshore
3. Tim Regan - Lakeshore

Masters ( All LA finishers)
1. Mike Lew - NOBC
2. Randy Leggai - NOBC
3. Russell Bernard III - Lakeshore

1/2/3
1. Rob Conrad - NBO (1st State Crit)
2. Frank Moak - Herring Gas
3. Michael Williams - U/A (2nd State Crit)
4. Eddie Corcoran Jr. - Lakeshore (3rd State Crit)
5. Matt Rinard - NBO
6. Kieth Duet - NOBC


Thanks to everyone...see you next year!
Alan Kirshbom - New Orleans, LA
eVamor/Lakeshore Cycling Club

Randy's Race Report

Spectacular weather and good racing was the order of the day on Sunday for the second annual Lakeshore Roctoberfest. With only a mild breeze and ideal temperatures, the stage was set for some interesting racing on the Eastern half of the Lakeshore Drive circuit. Now, you might have thought that this race would be just like one of the Tuesday-Thursday training races, but there were a few factors that made big differences in that regard. For one, there was not much of a crosswind, which meant that it would be relatively easy for riders to sit in at the back of the pack. Also, the road was closed, so riders had a 2-lane wide route for the entire distance. Of course, the presence of riders from Baton Rouge, Mississippi and elsewhere would also make it harder for the usual suspects to dominate the race.

MASTERS RACE The masters race was fun, at least for us. NBO had only Jay and Donald, but for some reason I guess they thought they could just pound the pack down into submission all by themselves. This turned out to be a bit of a tactical blunder. Donald attacked from the gun, and then they took turns attacking for about two laps. It might have been effective in thinning out the bunch if there had been a crosswind, but there wasn't, so it was relatively easy for people to sit in at the back. I spent a lot of time at the front covering the breaks along with Mark Manson, Robin, Mike Lew and Mark Delaney. Keith didn't ride the master's race. The Lakeshore guys seemed to be mostly just drafting at the back. Every now and then, Mark or Robin would counter-attack to give the rest of us a little break and make the NBO guys work some more. After a few laps of this, Donald and Jay were starting to get a little tired and the bunch slowed down a bit. Mike Lew sensed the opportunity immediately and took off with one other guy and they got a big gap right away. Now Donald and Jay had to chase, and they were getting little help from Lakeshore or anyone else. We were monitoring things near the front, but not blocking very aggressively. Donald and Jay knew what they had to do, and put in a ton of work, which must have hurt like hell after all those attacks. The lead duo had around a minute at one point. Jay and Donald were screaming for help, and got a little of it, but the gap was still around 30 sec. Then, Mike lost the other rider in the break and the pack started to creep up on him a little. Jay then took a long pull the entire length of the course at about 30 mph and shortly thereafter Mike was caught with maybe two laps to go. Robin and Mark launched some flyers to keep the pace high, and then with a kilo or so to go Mike surprised them by attacking again. The guy does know how to suffer! He just made it to the line in time. I jumped off of Russell's wheel at about 100m and passed him, finishing about a wheel behind Mike. Fun race! It's really nice to be racing with this group of teammates. We don't need to talk much about strategy, because everybody already knows how to race.

SENIOR 1,2,3 RACE Before the 1,2,3 race, (a couple of hours after the master's race) I was telling Frank Moak that NBO would have the luxury of taking some big chances early, since they had Rob Konrad in reserve in case of a sprint finish, in which he had about a 95% chance of winning. That's exactly what they did. They had two riders in a 3-man break with Norman for a long time, and with both NBO and Baton Rouge blocking I thought it might very well survive to the finish. Glenn Gulotta and Rick Selby (Lakeshore) thought otherwise. The break was going maybe 27 mph pretty steady, but the pack was surging up to 30 and then dropping back to the low 20's depending on who was at the front. The Red Stick riders were being particularly effective blocking at the front. Things really heated up the more "tailwind" stretch, however, and the pack made up about half of the gap all at once. That was the beginning of the end for the break. Mike Williams (again with his totally illegal Spinaci clip-ons - can't this guy read the rule book?) was mostly sitting in, and I was expecting him to lauch a solo flyer when we caught the break, but he surprised me and didn't. I would suspect that had he made a successful solo effort, there would have been an official protest about the handlebars, however. After that, it looked to me like it would be a sprint finish for sure. On the last half-lap I worked on moving up, but didn't get a really good position until the traffic circle at Elysian Fields, which is probably about a kilo from the finish. The last kilo was very fast and I took a big chance sticking with Frank Moak's wheel on the right side of the road, somewhere in the front 6 or 7 riders. We might have gotten boxed in against the curb over there, but it opened up going around the curve as the rest of the pack swung a bit to the left. I think Frank got stuck out in the wind a little earlier than he had wanted, but he ended up finishing second to Rob Conrad anyway. It was a shame that my legs were, by now, completely shot, because I think I could have finished very well. As it was, when the final jump came about 300 meters from the line, my quads pretty much locked up and a bunch of people passed me in the last 100m as I could hardly push on the pedals by that point. Keith, however, had been behind me and had a very good sprint, finishing 6th. I was so shot at the end of the sprint that I actually moved over to the right to make sure I didn't get run into from behind! I don't know exactly how everyone else placed, as officials were pretty scarce at the finish line and I don't think the folks there were able to place very far down into the group, considering the pack sprint. There was a video camera, so maybe some deeper places will show up eventually. In addition to racing, Robin Robert worked on the start/finish and course setup, and we both assisted with place picking in the races that we didn't ride.

-Randy.